***  ATTENTION RUNNERS ***  
Due to construction on the new Johnson Elementary School, the Derek Hotsinpiller Fallen Stars 5K will start and finish in the Bridgeport City Park behind the field.  Runners are asked to park behind and in front of the schools and field, but not in the park in order to make room for the race. 
***  ATTENTION RUNNERS ***  
Packet Pickup and Race Day Registration 7:00am-8:00am on Race Day
Race starts at 8:30am.
This is a run/walk event.
A limited amount of race day registration Cotton T-shirts will be available. 
If you are unable to attend the race and would still like your T-shirt please make arrangements to have your shirt picked up on race day. 
T-shirts will not be available for order after the race.
We will be holding special events for law enforcement officers and awarding prizes for the LEO Challenge and TOP COP.  If you are in law enforcement see the registration page to sign up for these special events.
Race Coverage - Ben Queen Photography
Door Prizes and free refreshments following race.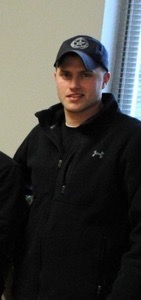 June 9, 2018, friends and family of DUSM Derek Hotsinpiller will be hosting a memorial 5K race to honor his dedication and commitment for serving and protecting our community.  While serving a warrant in Elkins, West Virginia, on February 16, 2011, Derek was taken from his loved ones too soon.  Derek's friends and family have initiated a scholarship in his honor so that he will forever be remembered and honored as a Deputy U.S. Marshal, a beloved son, brother, grandson, nephew, brother-in-law, soulmate, and lifelong member of the Bridgeport community.

    The James and Derek Hotsinpiller Scholarship Foundation (click to visit website) will provide scholarships to Lewis, Upshur, Barbour, Taylor, Marion, Wetzel, Doddridge, Harrison and Monngalia County students that wish to pursue a higher education degree in criminal justice or social science.  Throughout the year, there are a variety of fundraising activities to help fund the scholarship.  The primary event is the Derek Hotsinpiller Fallen Stars Memorial 5K race.  Our goal is to raise $15,000 from this race to apply toward the scholarship.